The Swift Innovation Corp provides Cisco-based solutions for Internet and end-user connectivity, security, data center computing and switching, wireless infrastructure, and more.  The advantage of Cisco is the real possibility of validated end-to-end solutions for your network, with tight integration between all components.  Cisco ecosystem partners include manufacturers and vendors in storage, virtualization, operating systems, and more.  Cisco Validated Designs  provide the foundation for systems design based on common use cases,  engineering system priorities, and industry best practices.  Cisco Validated Designs incorporate a broad set of technologies, features, and applications to address customer needs.  Each one has been comprehensively tested and documented by Cisco and their ecosystem partners to ensure faster, more reliable, and fully predictable deployment. 
No other network manufacturer provides the breadth of end-to-end I/T solutions for your business that Cisco provides.  Cisco solutions touch nearly every part of the I/T infrastructure that supports your business - Wireless, core Routing and Switching, Collaboration, Computing, Security, Network Management, the list goes on.  Right-sized Cisco solutions fit perfectly into service providers, large and medium-sized enterprise networks, and small business.  Throughout the years, Cisco has built Enterprise-class solutions and scaled them effectively into service provider environments with additional functions and features, and has also scaled them into SMB environments by bringing granular pricing models that allow smaller deployments to maintain the same Enterprise-class functionality.
For more information about the right Cisco solutions for your business, contact us today at This email address is being protected from spambots. You need JavaScript enabled to view it.
Cisco Data Center
Cisco Unified Computing System allows you to simplify your data center architecture, reduce the number of devices to purchase, deploy, and maintain, and become faster and more agile.  By unifying storage, data networking, and network services, Cisco Unified Fabric delivers architectural flexibility and consistent networking across physical, virtual, and cloud environments.  
Cisco Nexus brings ubiquitous 10G, 40G, and 100G Ethernet, to your data center, supporting high-demand applications.  Cisco Nexus and Cisco MDS also provides 1, 2, 4, 8, or 16GB Fibre Channel, providing scalable and flexible storage networking.  Cisco Nexus is counterpart to Cisco UCS in the Cisco Unified Data Center.
Cisco UCS was purpose-built for virtualization from the ground up.  With Cisco-first innovations like Fabric Extender technology, Virtual Interface Cards, Extended Memory Architecture, and more, Cisco UCS continues to deliver intelligent solutions for the data center that allow users to spend more time on delivering value to their business partners.  The rest of the Computing industry has certainly "caught on" to these Cisco-firsts, lending credence to Cisco's vision in this space, and Cisco is still driving forward.
Cisco Routing and Switching
Securely and easily deploy services anywhere.  Scale network performance and reliability with industry-leading network services, integrated service modules, and validated design guides.  Adapt your network meet evolving business requirements with Cisco routing and switching solutions. 
Cisco Catalyst provides flexible connectivity to the classic user network, delivering intelligent scalablility from as few as 8 users to thousands of users in a single deployment site.  The Cisco Catalyst switching platform has an enormous install base in modern networks today, making it the platform of choice for your engineering resources.  Proliferation of Cisco knowledge means faster deployment, quicker troubleshooting, and more intelligent services deployed by your engineering teams.
Cisco Integrated Services Routers (ISR) provide a converged branch platform with industry-leading network, compute, and WAN services.  These routers can seamlessly extend cloud services across remote sites, and help you accelerate the digitization of your business.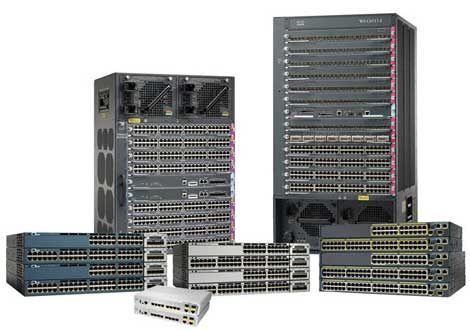 Cisco Wireless Infrastructure
Provide anywhere, anytime access to network resources with the same quality of experience that a wired network delivers.  Cost-effectively manage and secure your wireless networks with the Cisco Wireless Controllers and Access Points. Automated wireless configuration and management functions give you visibility, control, and ease of management. 
Cisco Wireless Solutions provide centralized ease-of-management for secure wireless deployments from just one AP up to 6,000 AP's, and scaling up to 64,000 connected clients, with advanced features like Clientlink for transmit beamforming, Cisco CleanAir for radio spectrum management, rogue detection, location services, FlexLink, and more.  Cisco wireless solutions provide more than 1Gbps of wireless client traffic with 802.11ac networks - and with 3x4:3, 4x4:3, and 4x4:4 radio sets, your wireless clients can connect and stay connected at maximum efficiency.
Cisco Network Security
Protect your network against rapidly changing attacks with next-generation security appliances and advanced malware protection - in the cloud or data center.  New mobile devices mean new security challenges.  uild an intelligent, scalable network that meets the demands of mobility, and keep everyone productive - everywhere. 
Cisco Adaptive Security Appliance (ASA) provides a broad suite of security solutions - ranging from basic firewalling to Next-Generation Firewall (NGFW) services, to VPN, to IDS/IPS services.  All in a single device.  The ASA is extremely flexible - ASA Contexts virtualize a single physical ASA into multiple logical firewalls, and ASA Clustering presents up to 8 physical ASA's as a single logical device to the network - delivering up to a potential 320Gbps firewall throughput.  The Cisco ASA provides a variety of solutions for remote access - a clientless web portal, SSL VPN, site-to-site VPN for home office or remote branch, even a Unified Communications proxy for remote-worker integrated IP telephony. 
Cisco ASA with FirePOWER Services delivers integrated threat defense across the entire attack continuum - before, during, and after an attack - for a distinctive, threat-focused, next-generation security services using the ASA 5500-X Series products.  It provides comprehensive protection from known and advanced threats, including protection against targeted and persistent malware attacks, combining proven ASA firewall with advanced malware protection in a single device.
Cisco Cloud Web Security (CWS) provides proactive security, application visibility, cloud security services, and control for the distributed enterprise.  Users are protected everywhere, all the time when using CWS through Cisco worldwide threat intelligence, advanced threat defense capabilities, and roaming user protection. 
For on-premise deployments, the Cisco Web Security Appliance (WSA) provides advanced threat defense, advanced malware protection, application visibility and control, insightful reporting, secure mobility, and more in a single solution.